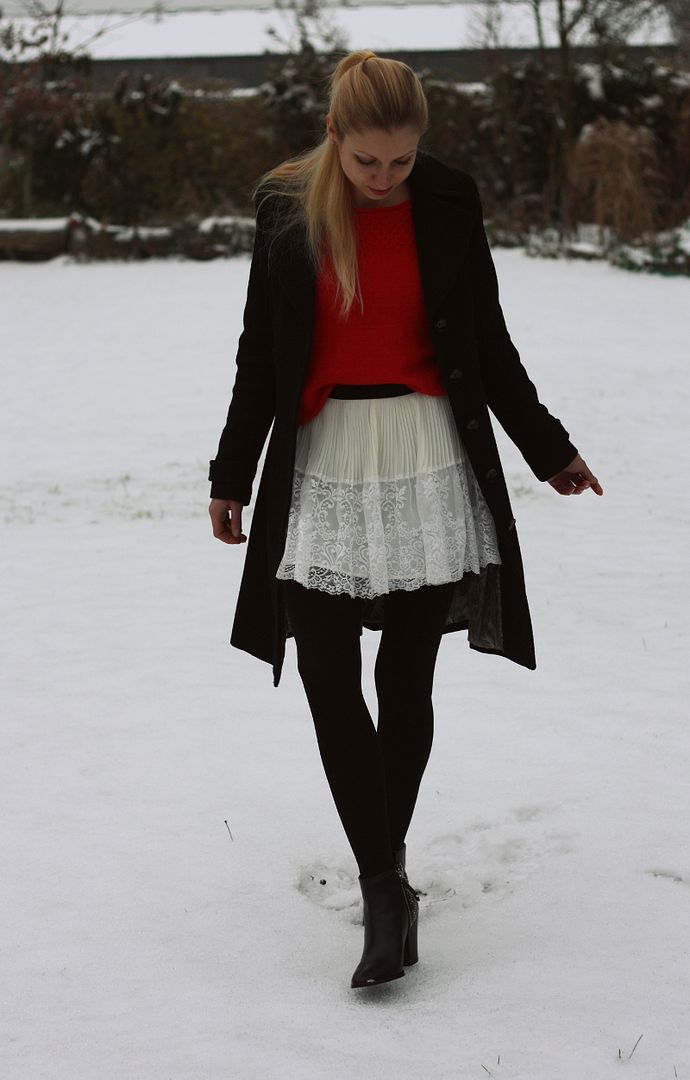 coat & knit:
H&M / skirt: flewmarket Paris / tights: Falke / boots: Zara / earrings: present
DE

Da kommt man aus dem kalten Hamburg zurück und denkt, dass in der Heimatstadt mal wieder absonderlich hohe Temperaturen herrschen und dann das: Wo-zum-Henker-sind-meine-Thermoleggins

-aber-eigentlich-will-ich-lieber-drinnen-bleiben-

Temperaturen
und Schnee, aber wirklich haufenweise. Das hat man ja gern. Wenn er auf emotionaler Ebene dringend gebraucht wird (Weihnachten, Silvester, Winterurlaub) denkt er nicht dran, uns mit seiner Anwesenheit zu beglücken. Doch sobald man anfängt seine Fühler in Richtung Frühling zu strecken, sich mit den Frühlings- und Sommerkollektionen beschäftigt, es gar nicht mehr abwarten kann, den Strickpulli in den hintersten Teil des Schranks zu verbannen, die Tage bis zum Frühlingsanfang zählt und alles für ein klitzekleines bißchen Sonnenschein geben würde, steht er vor der Tür. Beziehungsweise liegt im Garten. Nur leider hilft Meckern nicht und arrangieren ist angesagt. Mein Mantra: Wenn schon kalt, dann wenigstens mit weißer Fluffdekoration. Das gilt auch für mich übrigens, wie ihr an meinem Rock sehen könnt. Sehr bauschig, sehr mädchenhaft und selten getragen. Aber manchmal muss es eben die Extraportion Mädchenkram sein.
EN
Coming back from my Hamburg trip, I
assumed that
the temperat
ure in my home town would be outlandi
sh high (like always) but
think again!
Sub-zero temperatures and tons of snow
, a
nd that's what nobody needs right now.
Where have you been, when we needed you
in emotional terms like christmas, New Year's Eve and winter holidays?
I'm just putting out my feelers to spring, fiddling with spring/s

u

mmer collections, can't wait to banish my knits and count the days till there's going to be just a little sunshine again. But all that moaning will get us nowhere. My mantra for these days: Let's go the whole hog. Freezing sucks but at least we got a fluffy white decoration. That also applies to me, parading my very puffy,very maiden and rarely worn lace skirt. But

s

ometimes it's just all about that extraportion girly-stuff.