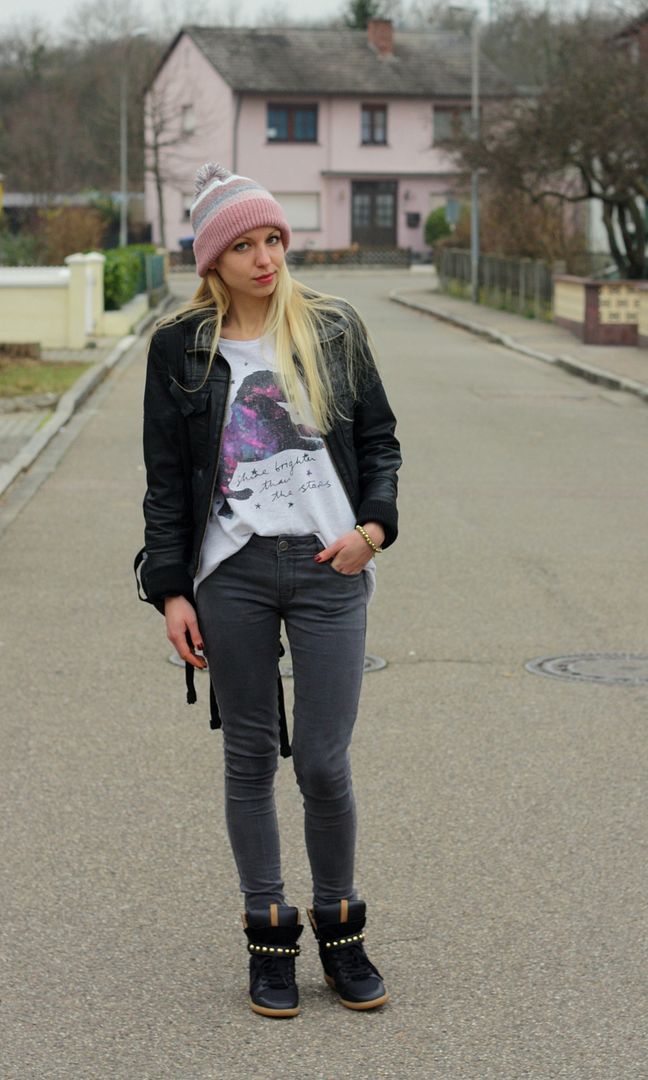 leather jacket: Only / sweater & bracelet: H&M / denim & beanie: Primark / sneaker wedges: Zara / rucksack: Army Shop / brooch: Sixx
DE

Es gibt immer einige Kleidungsstücke und Trends, die die Gemüter spalten. Entweder man vergöttert oder man verabscheut sie. So scheint es ja offensichtlich auch mit den Sneaker Wedges zu sein, und ich habe sie lange Zeit vollkommen ignoriert, bis ich im Zara Onlineshop auf diese Schätze gestoßen bin. Pure Liebe und jetzt mein! Schwarz, goldene Nieten und unfassbar bequem - ich bin ab heute der größte Fan und fre

ue mich auf unzählige Kombinationsmöglichkeiten. :)
Was sagt ihr: YAY oder NAY!?
P.S.:
I

ch bin jetzt auch bei
BLOG-CONNECT
&
würde mich wahnsinnig freuen, wenn ihr

mich da mal besucht!
(Weiß man jetzt eigentlich, ob GFC tatsächlich abgeschafft wird?)
EN

There are always pieces of clothes and trends, which are dividing the minds. Either you adore or you detest them. That's the thing with those sneaker wedges, and the last months I completely ignored them till I found these treasures at the Zara onlineshop. Pure love and now they're mine! Black, golden studs and incredible comfortable - as from today I'm the biggest fan and looking forward to numerous

combination possibilities. :)
What do you

say: YAY or NAY!?
P.S.
I'm also on
BLOG-CONNECT
now and would be so happy

, if you'd visit me there! :)