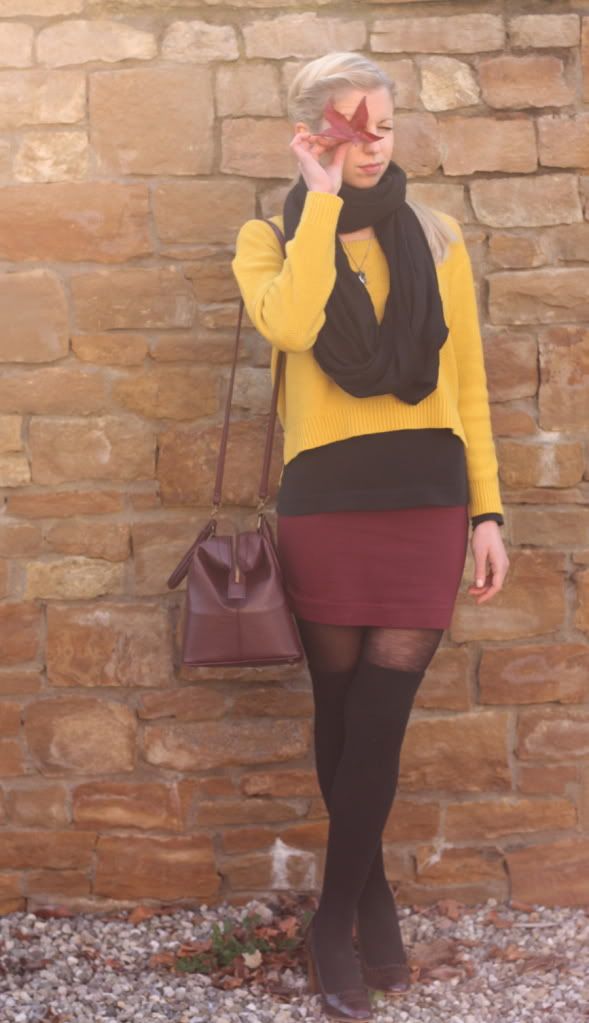 jumper & skirt: H&M / longsleeve: Mango / bag: ASOS collection / scarf: Zara / overknees: H&M / necklace: Pieces
DE

Gib mir einfach ein bißchen Sonne

, bunte Blätter, einen freien Tag und

die Vorfreude auf eine spannende Lesung von Ursula Krechel (Preisträgerin des Deutschen Buchpreises 2012) und anschließendes Cocktails schlürfen und ich bin zufrieden. Sehr sogar. Wenn ich jetzt noch etwas fancy Wintereis auftreiben kann, dann ist dieser Tag fast schon unerträglich fantastisch.
Passend zur Stimmung habe ich mich heute für kräftige, leuchtende Farben entschieden und da es mal so gar nicht bitterkalt war, war ein Rock auch vollkommen tragbar. Letztes Jahr habe ich meine Liebe zu Overknee-Strümpfen entdeckt und besitze mittlerweile auch einige Paare - macht euch also auf viele Posts mit verschiedenen Varianten ebendieser gefasst! :)
EN

Just give me some sunshine, colorful leaves, a free day and the anticipation about an exciting reading with Ursula Krechen (awardee of the German prize for literature 2012) and afterwards cocktail sipping, and I'm happy. A lot indeed. If I'm additionally going to find some fancy sort of winter-icecream, this day is going to be nearly unbearable fantastic.
Appropriately to my mood, I decided to wear intense and bright colors and because it wasn't really cold, I was able to wear a skirt - yay! Last year I found my love for overknee-socks and meanwhile I possess a lot of them - so brace yourself for plenty posts with different kinds of them. :)
Ich hoffe, ihr habt auch einen schönen, sonnigen Tag und ein Wochenende, auf das ihr euch freuen könnt, vor euch!
I hope you also had a lovely, sunny day and are looking forward to your weekend!